Advanced hair loss 
You may have ignored your hair loss for many years or you may not have been in a situation to do anything about it. When hair loss is left untreated, it progresses and gets worse. Many may fear that when they get to this stage there is nothing that can be done, but this is not the case. At IHS we offer many treatments, for all stages of hair loss and can guarantee that you will get results. We understand that although hair loss may be something that is commonly linked to men, it also affects many women and can have a devastating effect on your confidence. 
Our experts, who will also inform you of your hair's likely progression, can easily diagnose your type of hair loss. We will create a personalised treatment package for you, which guarantee results, not just in the short term, but in the long term too.   
Below is an example of a client who came to us after her hair loss progressed heavily for quite some time. She originally thought that nothing could be done to help her, and she was destined to constantly hide her hair. This isn't the case. We informed her about our "Step by Step" treatment, which allows clients to gain a full head of hair without any risk or pain. She received instant results following her treatment. She then met with one of our stylists to help complete her desired look. Following your treatment you then have the option to have your hair styled by our in-house stylists.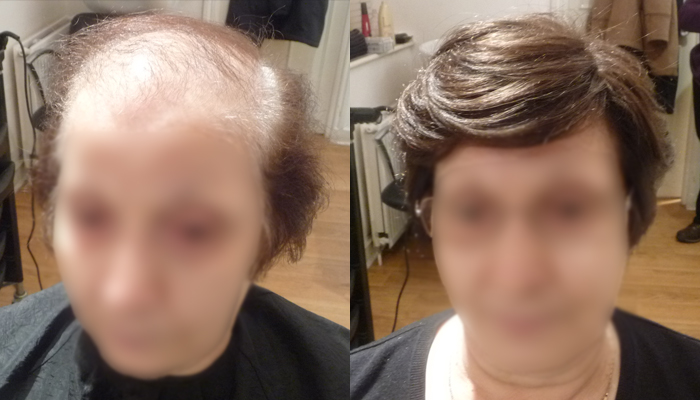 If you think you may be experiencing hair loss, then please give one of our friendly team a call for an informal chat. We are more than happy to meet with you for a free consultation or if you are unable to make it to one of our studios, we can arrange a phone consultation. Majority of our staff have experienced hair loss, which has been treated by us, so we understand how you may feel. 
Below is another example of one of our female clients whose hair loss had progressed to an advanced stage. She was offered our "Step by Step" treatment and we were able to give her a full head of hair to the style she required. To find out more about our "Step by Step" treatment and how it works click here (link to step by step).