We know it is not a consolation, but you are not the only one! Hair loss in men is an extremely common condition. Throughout their life more than 70% of men will start to experience some form of hair loss. Whether this is in your teenage years or later, when hair loss starts to happen it can be devastating. Soon, you can be looking in the mirror to find someone who just doesn't look like you anymore.
If your hair loss is in the early stages of thinning, then this is the best time to seek professional help to have the problem diagnosed. Just like a visit to the dentist, responding to small problems, or warning signs, often will mean an easier solution then leaving it until the damage has been done. This is why, at International Hair Studio, we encourage our patients to come for a free consultation as soon as they notice the problem.
Am I Experiencing Male Hair Loss?
Sometimes people aren't sure if they are actually losing their hair. You may be currently assessing your hair and wondering "am I losing hair?"; maybe you are taking photos, asking friends, your family, your hairdresser or your doctor about hair loss. If you are in doubt it is much easier to come to a hair loss expert; at International Hair Studio, we will look at your hair and advise you if it needs any help. Then we will give you unbiased advice, and if you do not need any treatment we can help you keep an eye on it.
Book your free consultation
Causes of Hair Loss in Men
Hair loss is medically known as Alopecia. There are many different types, caused by many different reasons.
The most common type of hair loss in men is referred to as Androgenic Alopecia. This hair loss is caused by a combination of your inherited genes and the changing hormones. If Androgenic Alopecia or male pattern baldness is your problem you may find some similarity in the Hamilton-Norwood scale – shown below: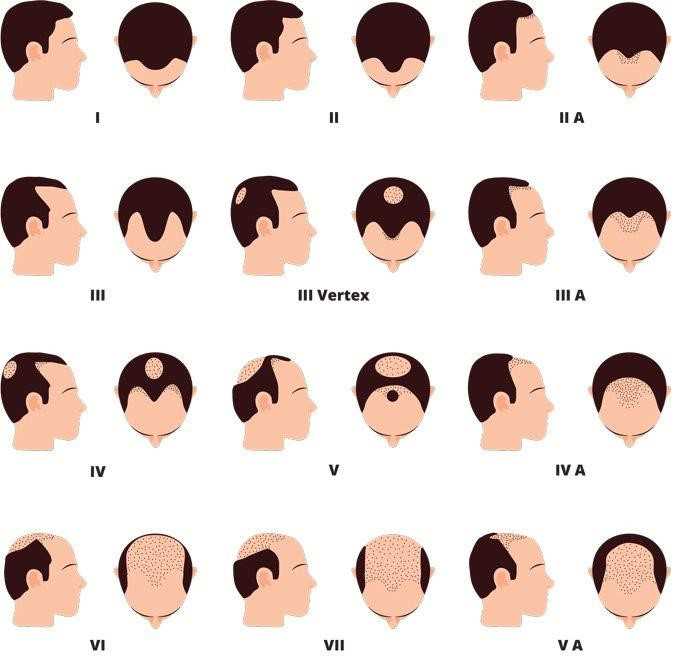 This illustrates some of the usual patterns of loss caused by Androgenic Alopecia or Male Pattern Baldness. With hair loss like this, definitely the sooner it is treated, the easier it will be to return to a full style.
Other types of male hair loss conditions include autoimmune disorders such as Alopecia Areata; Alopecia Totalis; Alopecia Universalis; or other created conditions such as Trichotillomania; Traction Alopecia, Chemotherapy and  hair loss caused by the use of certain medications. Hair loss can also be caused by physical events such as an accident, an operation or a burn, or even a birthmark that has outstayed its welcome. All of these can also be treated in some form or another.
Hair Loss in Men: Treatments
If there is hair that has been lost, whether this has been over time or quite acutely, then again, the earlier problems are addressed the better.
There are many types of male hair loss and not all are permanent, and some respond very well to fast action with minor medicinal or therapeutic treatments. The decision of which treatment would be best for you, should be left to a professional (even in today's age of self-diagnosis using the internet).  Different treatments work better for different people, and an experienced and unbiased professional should be consulted before commencing any type of program. A professional will diagnosis the cause of the hair loss; how far it may have progressed; what type of treatment would be the most effective to attain your personal goals and expectations, taking into account not only your hair but also your lifestyle.
Treatments used may include: Topical Medications, properly administered medical grade Laser Therapy, Nutritional Supplementation, Mesotherapy Injection and Intralesional Corticosteriod Injestions.
Instant results or gradual thickening can also be achieved by the powerful "Step by Step" Non-Surgical Hair Grafting and Replacement Systems. "Step by Step" is named so, as it allows you to bring your hair back in subtle steps, so friends and family only need to know that you are doing something if you choose to tell them. Also, it prevents any sudden change that you will feel conscious of. This type of treatment restores thickness and density to even the most advanced hair loss. These methods are designed to be permanent, non-surgical, safe, undetectable and most importantly an enjoyable solution to provide a wonderful healthy head of hair.
Follicular Unit Injection FUE and Follicular Unit Transplant FUT are effective surgical methods which can also be called upon when necessary and when applicable.
International Hair Studio has access to the complete range of treatments that are available and offers an unbiased approach to selecting the right treatment for you. Our consultants can discuss the "pros and cons" of any technology or procedure which is on the market. Our core technical team have over been involved in the treatment of hair loss, around the world, for the last 30 years and have a tremendous breadth of knowledge and experience.
What can be done to treat hair loss in men?
Your first visit to International Hair Studio is a completely free, discreet, professional but relaxed consultation; to determine the exact cause of the hair loss, and what type of treatment will be appropriate.
If you are only in the early stages of loss, then preventive or partially restorative treatments like Medical Grade Laser Therapy, may be ideal to stem the thinning and optimize the hair growth.
If the hair loss has been allowed to advance, then treatment for the replacement of hair can be done slowly so the return of the hair is less noticeable to others. International Hair Studio's "Step by Step" treatment is specially designed that hair can return slowly over time, so that your colleagues, friends and family may not even realize that anything has been done.
If surgical procedures are thought to be best, then a great deal of care will be taken in explaining and planning these procedures properly. IHS will only use surgical options when they are requested and when they are the most appropriate cause of action. International Hair Studio uses some of the best surgeons and physicians in the UK and will help you get the very best quality treatment at very reasonable costs.
International Hair Studio is the only surgical and non-surgical consultation service who is approved to provide Chrysalis Medical Finance. This will allow you to pay your treatment off over a time to suit you. It means that you can have your treatment now, when you need it, and pay for it when you can afford it.
Whatever stage your hair loss is, International Hair Studio will always try to advise a treatment that we can guarantee. We will endeavor to use a method which will not only give you more hair, but achieve an amount of hair or "look" that you will be happy with.
If you would like to speak to an expert for advice before committing to a free consultation, then just give one of our friendly team a call – they will be more than happy to help you on the phone. Many of our staff, male and female, have had hair loss conditions themselves and can talk first hand of their experiences and what results can be achieved.
Call 0207 486 7077 for our London Clinic, Reading Clinic on 01183342416 or our Stockholm Clinic on 08222850.
Male hair loss success story: