General thinning (diffuse hair loss)
 General thinning of the hair or diffuse hair loss is also another name for Chronic Telogen Effluvium. This type of hair loss on females can cause the hair to fall faster than usual all over the scalp, which makes the hair appear much thinner. For this type of hair loss it is important to understand the cause, in order to help treat the problem, which is why you should always visit an expert to be diagnosed.  
Below is an image of one of our female clients who had large amounts of thinning on the top of her scalp. Although she had a lot of healthy hair she noticed a difference in the overall density on the top, which really affected her confidence. Following her free consultation at HIS, we determined the cause of her hair loss and the best way it could be treated to keep the hair thick and full. She was offered our "Step by Step" treatment to fill out the entirety of her scalp to its desired density.  
Our experts will create a personalized treatment package, which guarantees you results, not just in the short term, but for the long term too. It is easier to treat hair in the earlier stages, so it is important to visit an expert straight away. If you are only in the early stages of loss then preventative or partially restorative treatments like laser therapy may be ideal to stem the thinning and optimize the hair growth. 
Below is an image of a female client whose hair began to thin at the crown, which may have been easier to hide than her hairline, but it still made her extremely self-conscious. Her treatment program began at an early stage, before she lost the entire of the top of her head. She required a treatment that allowed her to have a long full head of hair without everyone knowing she was having the treatment.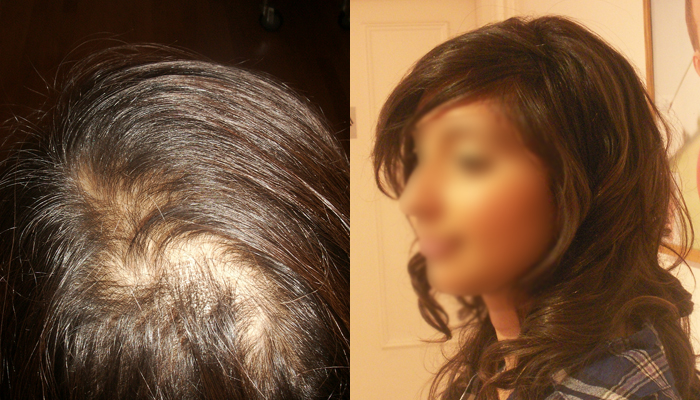 If you think you may be experiencing hair loss, then please give one of our friendly team a call for an informal chat. We are more than happy to meet with you for a free consultation or if you are unable to make it to one of our studios, we can arrange a phone consultation. Majority of our staff have experienced hair loss, which has been treated by us, so we understand how you may feel. 
Our final image is of one of our female clients whose hair loss had been left untreated for quite some time. She thought that nothing would be able to help the extreme thinning on the top of her scalp, but we were able to reassure her that our treatments would give her a thick head of hair. She was advised on our "Step by Step" treatment, which works great with more advanced types of hair loss without any pain of scarring. To read more about our "Step by Step" treatment click here