General thinning
General thinning of the hair is a common type of male pattern baldness. This is condition is caused by a combination of your inherited genes and changing hormones. You can inherit these genes from either your mother or your father, so it can affect you even when your father still has a full head of hair.  
Below is an image of one of our clients who started to suffer from thinning on the top of his scalp. Although he had no patches, the thinning had started to become very noticeable and affect his confidence. He was offered our "Step by Step" programme, which meant the hair on the top of his head now has the same density as the sides.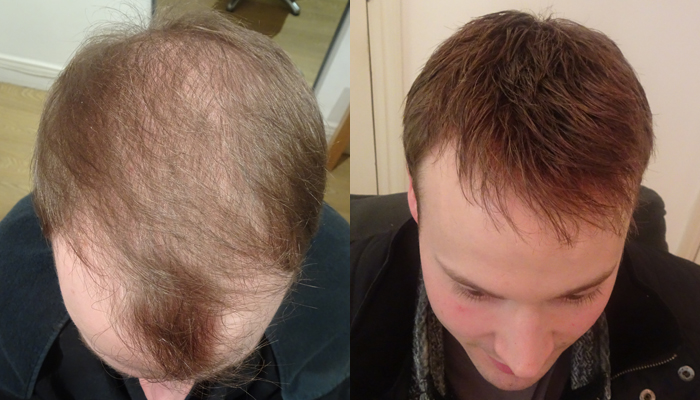 How to know if it may be male pattern baldness
This hair loss usually follows a pattern, however, many people may not discover their hair loss until a significant amount of hair has already been lost. Often, people experience hair loss that speeds up or slows down from time to time. The best thing to do if you suspect your hair is starting to thin is to visit an expert who can give you information if you are losing your hair and how it might develop. 
Our experts, who will also tell you how your hair is likely to progress, can diagnose your hair loss. They will then create a bespoke treatment package that guarantees results, not just in the short term, but for the long term too. If you are only in the early stages of loss then preventive or partially restorative treatments such as laser therapy may be ideal to stem the thinning and optimize hair growth. 
Below is an image of a male client who was in the early stages of stages when he visited us. His thinning had begun at the hairline, and was beginning to move further back towards the crown. He was offered a programme of laser therapy, which has helped the hair to grow back, as well as strengthen it to the desired density.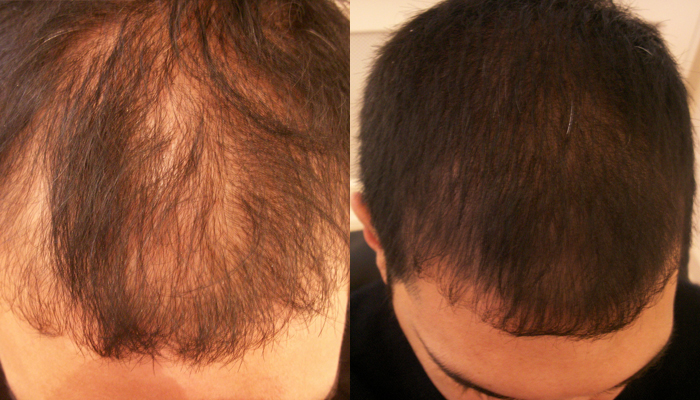 Who does it affect?
Male pattern baldness can affect you at any age. In some men, the hair loss process may be slower, which makes it harder to detect until it becomes more advanced.  
If you think you may be experiencing hair loss, then please give one of our friendly team a call for an informal chat. We are more than happy to meet with you for a free consultation or if you are unable to make it to one of our studios, we can arrange a phone consultation. Majority of our staff have experienced hair loss, which has been treated by us, so we understand how you may feel.