Are you considering a hair transplant? If so, have you got a plan for your existing hair? Most people don't realise that transplants alone are not always the solution to their hair loss, but a temporary fix to mask what they have already lost.
In order to achieve long-lasting results, we need to combine a transplant with a treatment plan that works for you. At International Hair Studio, we know that combining treatments to combat further loss is equally, if not more important than the surgery itself.
Most clinics look for easy options with hormonal drugs such as Propecia/Finastaride, but any drug taken long-term will lose its efficiency, and eventually, you'll end up back at square one.
Keep reading to find out more about our FUE Transplant and treatment options.
International Hair Studio has some of the most accomplished and experienced hair transplant surgeons in the United Kingdom. Because of our exclusive agreements, we can offer this level of service for prices otherwise unobtainable to the public. At our surgical rooms in London's West End, the U.K.'s focal centre of private and cosmetic medicines, we are able to offer FUE transplant procedures, from renowned surgeons, starting from as little as £2 per graft.
Our lead surgeon is from the prestigious St Mary's Hospital in Paddington – the choice of the Royal Family for the recent birth of Prince George and Princess Charlotte. These offers now make London the ideal place to come for any surgical or non-surgical hair corrective treatment. People who once took their chances in Turkey and Thailand, can now experience the luxury of first class Harley Street standards and service at much more affordable rates than ever before. The IHS team will even arrange your flights and accommodation if required, making the experience as easy and comfortable as possible. If required multi-lingual staff can also be arranged to help you. Visitors from the UAE or Sweden can click here to contact us directly.
What is a hair transplant operation?
A hair transplant is a procedure to move hair, from an area unaffected by hair loss, to an area of thinning or baldness. In other words, the surgeon selects healthy hair follicles that are genetically not prone to balding (the so-called "donor hair") – like the back of the head – and implant them into the desired thinning areas. In addition to treating Androgenetic Alopecia (a genetic hair loss condition commonly referred to as Male or Female Pattern Baldness), the modern hair transplant can achieve a natural appearance by mimicking the original hair orientation, so it can even be used to restore eyebrows, facial and pubic hair, and to repair scars caused by trauma, or surgical procedures such as face-lifts and prior surgeries.
Hair transplantation is a minimally-invasive surgical procedure performed under local anaesthetic in properly equipped surgical rooms. Procedures are booked per day and large areas may be performed over two consecutive days. The duration of the procedure depends on the type of hair, the number of follicular units transplanted, and the type of procedure used, with FUE generally taking longer than FUT.
What are the types of hair transplant treatments?
Donor hair can be gathered in various different ways, the most common being: Follicular Unit Extraction (FUE) and Follicular Unit Transplant (FUT).
FUE Hair Transplant
The preferred method of hair transplantation is FUE or Follicular Unit Extraction. This method is used to give the most natural results and is the best method especially when re-creating a hairline. The advantage over FUT is that FUE negates the need for large areas of tissue to be harvested in the process, so there is no linear incision on the back of the head and therefore it doesn't leave a linear scar. The practice to limit any scarring is obviously very important, and thus FUE extracts follicles individually, keeping scarring to a minimum. This is presently the finest method of the Hair Transplant available and is sometimes referred to by some surgeons as a Micro Graft or Micro FUE.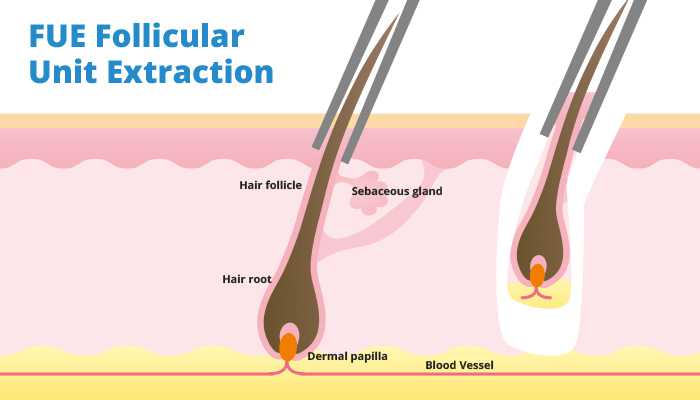 FUT Hair Transplant
FUT or Follicular Unit Transplant is also known as strip surgery. This is an older method of extraction but one sometimes used hair transplantation for people with large areas of balding. This is where the linear strip is taken and then divided and implanted in a similar way to how it is with FUE.
In both FUT and FUE, transplanted follicles begin producing new hairs in two to three months and the results of the procedure will be fully grown-in – or "mature" – after about one year.
Who can benefit from hair transplant surgery?
Hair transplantation can be used on both male and females. It is very important that the candidate has a sufficient hair loss that it affects their aesthetic appearance; and has also substantial hair in the donor areas, to satisfy current and future needs.
In all cases, the client's hair loss is first examined to identify any associated medical conditions, that may be associated with hair loss. A comprehensive evaluation will always firstly be given to help to eliminate possible systemic diseases that will prevent a hair transplant from giving a good
result – such as ruling out medical conditions, medication or pregnancy as the cause of the hair loss.
Hair transplantation is a restorative treatment to improve your appearance if other modalities have been unsuccessful or can't be used. Like all other procedures, it begins with a consultation with one of our senior consultants, who will be able to provide an unbiased view of the correct procedure for you. We will give you expert information about the treatments, discuss your preferences, expectations and any medical considerations. Based on this information, we would advise on the client's suitability for surgical hair restoration, as it should only be performed on appropriate candidates.
At International Hair Studio, we always stress that a hair transplant, or a surgical procedure, is not the only, or always the best option. However, there are cases where surgical options for hair loss are recommended. It must be said that surgical hair replacement procedures have been redefined within recent years and the results are far more effective now than previously. Doctors have been doing hair transplantation since the 1950s, but the techniques used are very different from the technology used today. For the right recipient, hair transplants and surgical methods can provide very natural permanent results.
One of the IHS success stories: